Lesson 2
PAINTING IN ENGLAND
I. Перекладіть наступні інтернаціональні слова:
period, portrait, artist, aristocratic, frivolous, class, national, condition
II. Перекладіть наступні словосполучення:
foreign artists; a well-known (famous) painter; painting school; court painter; aristocratic portrait painting; higher classes; portrait art
III. Прочитайте текст, дайте відповіді на питання:
1. What foreign artists worked in England in the 15-17th centuries? 2. When was a truly national English painting school created? 3. Who was the first great English artist?
EARLY PORTRAITURE ART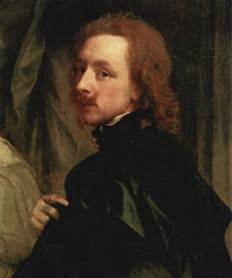 Painting in England in the period of the 15-17 centuries was represented mostly by foreign artists. In the 16th century Hans Holbein the Younger, a well-known painter, was invited to London by King Henry VIII. Though he did not create any painting school in England he nevertheless played an important part in the development of English portrait art. Later Charles I made the Flemish painter Van Dyck (a pupil of Rubens) his court painter. Van Dyck founded a school of aristocratic portrait painting. Another painter Peter Lely came from Holland in 1641. He became celebrated for his portraits of the idle and frivolous higher classes.
The 18th century was the century during which a truly national painting school was created in England. Portrait art at that time was the main kind of painting. It depended upon the conditions under which the English painting school developed. The first man to raise British pictorial art to a level of importance was William Hogarth.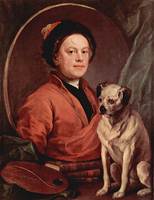 I. Перекладіть наступні інтернаціональні слова:
master, normal, genius, labour, produce, satirize, tendency, fashion(able), ordinary, artist, philanthropic, sympathy, subject, demonstrate, tempo, situation, comic, satire, original
II. Перекладіть наступні словосполучення:
to draw, drawings; to paint, painting, portrait painter, self-portrait; picture; a schoolmaster, masterpiece; a key figure; background, foreground; title, to entitle; to look at, to look for, looking-glass; company, to accompany
WILLIAM HOGARTH
(1697—1764)
William Hogarth was born in London. His father was a schoolmaster. His early taste for drawing was remarkable and after schooling which was normal for his day he was apprenticed to a silverplate engraver. He attributed his success to hard labour. "I know of no such thing as genius," he wrote, "genius is nothing but labour and diligence." Hogarth became quite successful as a portrait painter, being particularly clever at painting children and families
In 1724 he produced his first set of engravings entitled "The Talk of the Town", a series which satirized both the society and the current tendency of fashionable London to appreciate and invite only foreign singers.
Hogarth represented British life and people. He painted a lot of pictures. His masterpiece on the life-size scale "the portrait that I painted with most pleasure," as Hogarth said — was that of Captain Coram (1740). The sitter, a former captain, was a key figure in that moral socially philanthropic movement with which Hogarth felt .such sympathy. (In 1738 Coram founded the Foundling Hospital, with which Hogarth was associated.)
Real success came to him when he turned to subjects that common people could appreciate and understand. There was "The Rake's Progress", for instance. The series of pictures "The Rake's. Progress" were highly praised by Henry Fielding, the novelist, for their humour and moral force. Narrative pictures were nothing new, but Hogarth was the first artist to invent"a story and illustrate it.
"The Marriage Contract"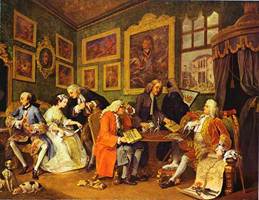 is the first of the series of his pictures forming the famous "Marriage a la Mode". Both fathers in the picture are seated to the right. One, an Earl, points with pride to his family tree; the other, probably an alderman of the City of London, examines the marriage settlement. The Earl's son admires himself in the looking-glass; the alderman's daughter trifles with her wedding ring and listens to the pleasantries of a young lawyer. The subject of the picture is a protest against marriage for money and vanity.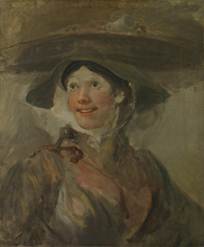 Although his narrative pictures were comic and full of satire his portraiture was honest and original. One of his earlier portraits is "The Shrimp Girl", which has vivid characterization and extraordinary vivacity.
His self-portrait of 1745 is in the Tate Gallery. In this fine painting he is accompanied by his dog, his palette, and the works of Shakespeare, Milton and Swift. Hogarth was the first great English artist. He used to be called "the Father of English Painting". He died at his house in London on October 26th, 1764.
I. Перекладіть наступні інтернаціональні слова:
president, academy, principle, portraitist, gallery, style, heroic, nation, psychological, idealization, passion, formula, master, complex, static, character, myth, mythological, commission, allegorical, real, personage, coquettish(ly), artist
II. Перекладіть наступні словосполучення:
the founder of the academic principles; to depict in heroic style; far advanced; to be influenced by; the might of young Russia; a close friend of; masterpieces of the great artist
JOSHUA REYNOLDS (1723—1792)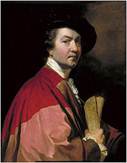 Sir Joshua Reynolds, the first President of the Royal Academy of Arts, was not only a painter but the founder of the academic principles of a "British school". Reynolds was the most outstanding portraitist of the 18th century. He created a whole gallery of portraits of the most famous of his contemporaries — statesmen, scholars, writers and actors, depicting them in heroic style, showing them in all their glory as the best people of the nation. His deep psychological approach made his art far advanced for its time, yet his paintings are not free of a certain idealization. He was influenced by the Venetians — Titian and Veronese.
Before Reynolds portraiture art was based on the formula: the sitter was posed centrally; with the background (curtain, chair, landscape) disposed behind; normally the head was done by the master; the body by the pupil. The portraits told little about their subjects. It was Reynolds who insisted in his practice that a portrait could and should be a full complex work of art. His people are no longer static, but caught between this moment and the next, between one movement and the next. He did not only paint portraits but produced characters. In his "Self-Portrait" (1773) Reynolds k appears not as a mere painter, but as the official representative of art.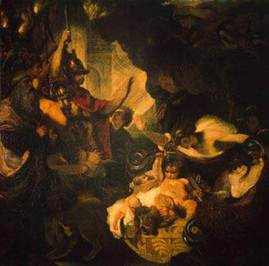 The contradictory features of Reynolds' art are most evident in his historical and mythological paintings. His picture "The Infant Hercules Strangling the Serpents" was commissioned by Catherine II of Russia. In it Reynolds wished to portray in allegorical form the might of young Russia defeating its enemies as successfully as the infant Hercules, son of Seus and Alcmene, battled the giant snakes planted into his cradle by the jealous Hera, wife of Seus.
Reynolds devoted himself entirely to portraiture. He was one of the founders of the English school of portrait-painting at the time of the industrial revolution. Quite often he included real personages in his mythological works. For example the prophet in the picture "The Infant Hercules Strangling the Serpents" is actually Samuel Johnson, lexicographer, a close friend of Reynolds. The woman's head above is undoubtedly Sarah Siddons, the famous tragic actress.
Joshua Reynolds' "Self-Portrait" (which is in the Royal Academy of Arts, London) and the portraits of Mrs. Sheridan and Mrs. Siddons are masterpieces of the great artist
. I. Перекладіть наступні інтернаціональні слова:
family, humour, musician, actor, artist, sympathy, period, information, dispute, general, pose, genius, fashion
II. Перекладіть наступні словосполучення:
to be very good at drawing; from memory; predominating colour; to attract attention; to earn one's living; an out-of-door painter; to be in fashion; humour, good-humoured; light, light blues, thunderlight; in the country, a country girl country-side; land, landscape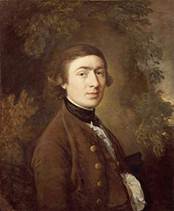 THOMAS GAINSBOROUGH
Thomas Gainsborough was born in the small market town of Sudbury in Suffolk. He was the youngest of the nine children In the family. He went to school in his native town
When a boy he was very good at drawing, and according to a story about him, he made such a good portrait from memory of a thief whom he had seen robbing a garden that the thief was caught. It was his early efforts at landscape painting that were the reason for his father allowing him to go to London to study.
Gainsborough was good-humoured and witty. He was a "lend of Garrick, whose portrait he painted, along with many friends among musicians and actors. The theatre, too enters his work. One of his most famous portraits is that of the actress Sarah Siddons, which is in the National Gallery.
His portraits of children have infinite charm. He had a great feeling and sympathy for them. The delightful portraits of his two little daughters have given pleasure for over 200 years and still do.
His portraits are painted in clear tones. His colour is always tender and soft. Light tone scheme and use of light blues and yellows belong essentially to his earlier period.
Perhaps the best known today of all Gainsborough's portraits is the famous "The Blue Boy"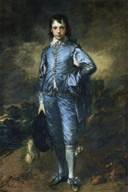 . But curiously enough it was little known in Gainsborough's days and there is no definite information about the date of the painting. There is an opinion that Gainsborough painted "The Blue Boy" in order to establish the point which he had made in a dispute with Reynolds and other painters, when he maintained that the predominant colour in a picture should be blue.
His picture "The Cottage Girl with Dog and Pitcher"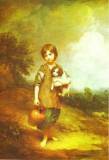 attracted general attention. The picture representing a small country girl was first exhibited in 1814; the easy pose of the girl, the natural turn of her head and the expression of her face make a true-to-life picture.
Thomas Gainsborough was Reynolds's rival and almost exact contemporary. He was also his most exact opposite. He brought an innate genius for drawing, delight in colour and movement. He is the purest lyricist among the painters.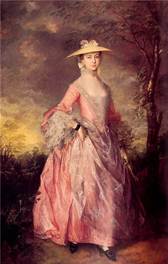 "The Portrait of Lady Howe" (1765) is one of his masterpieces. It is a portrait in a Van Dyck habit. Behind the Lady you can see the English landscape which was so dear to Gainsborough's heart. Even in the portrait painting he is an out-of-door painter. If you think of his finest portraits you will immediately remember that the backgrounds are well-observed country scenes. The famous "The Blue Boy" is placed against an open sky and a background of brown and green landscape. In Mrs. Sheridan's portrait the background is the wide sky and broad view into the valley.
He loved the country-side of his childhood and often said that the Suffolk country-side had made him a painter. One of the most famous of his late landscapes is "The Market Cart" painted two years before he died. He lived in that period when landscape painting was not in fashion. Rich people did not spend money on landscapes. So, it's really remarkable that there were more than 40 unsold landscapes in his studio at the time of his death.
WORD-BUILDING
Конверсія.
master (хазяїн) - to master (керувати), house (дім) - to house (розміщувати), water (вода) - to water (поливати), empty (пустий) - to empty (спустошувати) white (білий) - to white (білити).
Словоскладання.
airfield - аеродром (air - повітря, field - поле), airbase - авіабаза (air - повітря, base - база), airman - авіатор (air - повітря, man - чоловік), schoolday - шкільний день (school - школа, day - день), birthplace - місце народження (birth народження -, place - місце). service dress - формений одяг, одяг для служби (service - служба, dress - сукня), shop window - вітрина (shop - магазин, window – вікно)
Зміна наголосу.
export (експорт) - to export (експортувати) present (подарунок) - to present (дарувати).
---
Читайте також:
---
Не знайшли потрібну інформацію? Скористайтесь пошуком google: