THE TRENDS IN PAINTING IN THE 19TH CENTURY
Lesson 3
I. Перекладіть наступні інтернаціональні слова:
art(ist), genre, leader, moral, politician, labour, tradition, favourite, diplomat, master(ly), realism, idealize
III. Прочитайте текст, намагайтеся зрозуміти його, дайте відповіді на запитання:
1. What were the trends in painting in England in the 19th century? 2. Who represented the genre school, realistic landscape and portraiture?
The Industrial Revolution in England greatly influenced art as a whole, and painting in particular. Such trends in painting as the genre school, realistic landscape and portraiture schools expressed the social contradictions of English life. The new trends may be traced in the works of Wilkie, Lawrence and Constable.
Sir David Wilkie (1785—1841)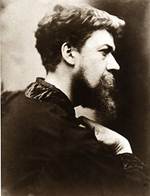 , the leader of the genre school, preferred pictures from which a moral concerning the simple virtues could be drawn. One of his well-known pictures is "Village Politicians". With this trend not only portraits of common people but their life and labour were introduced in art.
David Wilkie dedicated himself to portraying the joys and sorrows of the "little man" — the Scottish farmers, shop-lepers, retired soldiers, etc. His picture "Old Woman with a Dog" is characteristic of the artist's ability to tell a story, be it even in a portrait.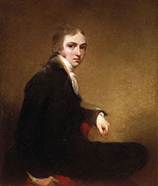 . In portraiture Sir Thomas Lawrence (1769—1830) continuing the manner of the 18th century introduced more realism. Thomas Lawrence, the last of the painters to begin his career in the Reynolds tradition, was a favourite of the

english nobility. His magnificent paintings were glorified portraits of statesmen,military leaders, and diplomats — always handsome, self-possessed and imperious, a romantic pathos ennobling them more.
"Lady Raglan" is one of Lawrence's earlier works, done when he was still greatly influenced by Reynolds, but its easy manner and masterly brushwork are really wonderful. Sometimes Lawrence sacrificed realism to create a mild, idealized portrait. The artist is at his best as a society portraitist in his "Portrait of Count M. S. Vorontsov", a participant in the war of 1812. Lawrence's work was true to the traditions of the final period of a school of portrait painting. The tradition of realistic landscape was represented by John Constable.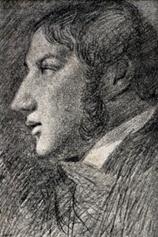 Прочитайте текст, намагайтеся зрозуміти його, дайте відповіді на запитання:
1. What tradition in painting was represented by John Constable? 2. Where did Constable exhibit his paintings? 3. What pictures by Constable have you seen?
JOHN CONSTABLE
(1776—1837)
John Constable was born in the village of East Bergholt, Suffolk in 1776. His father was a man of some property—he had water mills and windmills, and John after leaving grammar school helped his father. From his boyhood Constable was devoted to painting and his father allowed him to visit London and to consult the landscape-painter J. Farington, but only in 1799 he could adopt the profession of painting and became a student at the Royal Academy.)For Constable nature was the "source from which all originality must spring". In fact, Constable was better appreciated in France than in England, and was regarded there as the father of the French school of landscape. He interested himself in the study of colour, its theory and chemistry and became almost a professional meteorologist. He wrote: "Painting is a science, and should be pursued as an inquiry into the laws of nature." His sketch of "Brighton Beach, with Colliers" 1 is typical of his method.
John Constable painted many well-known works, such as "Flatford Mill", "The Cottage in the Cornfield", "The Hay Wain"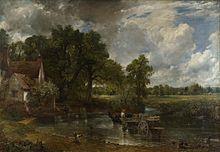 , "The Lock", "Salisbury Cathedral from the Meadows" 6 and others. Constable was winning recognition in England for a long time. However, his fresh and charming landscapes ,were an immediate success when exhibited in the Paris salon of 1824, influencing a great number of progressive young French painters. The realism of Constable in English art had no further followers towards the end of the 19th century, when academic trends grew stronger, idealism developed, and later turned to formalism.
JOSEPH MALLORD WILLIAM TURNER (1775—1851)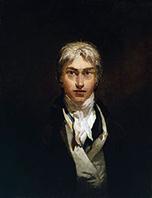 The paintings of Joseph Mallord William Turner are amond the outstanding art achievements of the nineteenth century! Turner's earliest works were watercolours. His first oils are sombre in colour but already reveal his preoccupation witfl contrasted effects of light and atmospheric effects such asj storms and rainbows. The painting of light was his business. For Turner light was the main principle of the world, hi J theme was to show that light dissolved all matter into itl own qualities, the colours of the prism. Light is triumphant in his pictures.
The dream-like landscapes, often of Venice, representeed one side of Turner's late style. The other was the more and] more direct expression of the destructiveness of nature, apparl ent particularly in some of his sea-pieces. The force of wim and water was conveyed by his open, vigorous brushwork His pictures "The Shipwreck"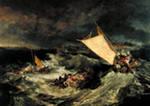 , "Burning of the Houses о Parliament"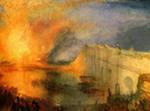 , "Snow Storm" and others are original am brilliant in their mastery. Of his life we know practicallj nothing. He lived only in and for his art. Son of a London barber, he started drawing and painting as a small boy, selling his drawings to the customers in his father's shop. When Turner was thirteen, he chose an artistic career. His oil paintings were exhibited in the Royal Academy in 1793 and in 1802 Turner was elected Academician of the Royal Academy.
He lived till he was seventy-six, painting with something like frenzy till the end. When his work came to be listed the records showed 200 important oil paintings, 300 water-colours, and no less than 20,000 sketches and drawings! An enormous number of his great canvases were his own, and the lonely old man, dying, bequeathed them to the nation.
Turner was a representative of the literary and emotional themes of Romanticism. The cult of nature — mountains and shoreless sea, an incandescent sky, castles haunted and often in ruins — predominates in his paintings. But also, in so many ways, he is out of his time. In his investigation of colour he anticipates, in some degree, the practice of the Impressionists; in some late works he anticipates sometimes the twentieth-century Expressionists 6 and the purely abstract painters. Turner's splendid paintings realistic and romantic, dreamy and true-to-life are loved throughout the world.
---
Читайте також:
---
| | | |
| --- | --- | --- |
| <== попередня сторінка | | | наступна сторінка ==> |
| Lesson 2 | | | |
Не знайшли потрібну інформацію? Скористайтесь пошуком google: